Ethan recently did a project for school on polar bears. We have been having so much fun together learning about these arctic bears. To find some fun (and free!) polar bear activities, I headed to Pinterest and found tons of great ideas from my fellow bloggers!
Our Faux Snow Sensory Fun Project is a great one for kids learning about artic biomes. You might also like to check out the live Polar Bear Cam at the San Diego Zoo.
Polar Bear Diorama
How we made Ethan's Polar Bear Habitat:
First we covered the inside of a shoe box with white paper. Then, we used cardboard and glue to create the snow cave.
Next up was some of the homemade sparkle play dough that we made for the snow and ice. Once left exposed to the air, it hardened up.
We covered the outside of the box with cotton balls, added a map of where polar bears are found (not shown).
Finally, we added these polar bear figures (there was also a seal, so show what they like to eat).
I have to share this photo of my smiley guy putting together his project - what a silly little ham!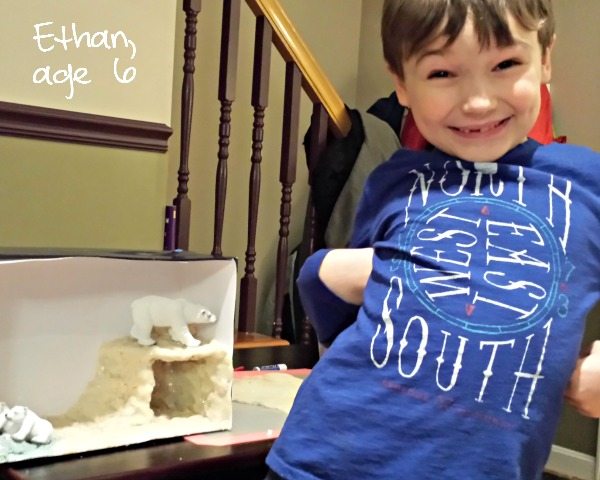 More Polar Bear Activities
These are some fun activities for young children that are perfect for learning about polar bears, winter and snow.
Polar Bear Snacks
When you're done with your polar bear activities, it'll probably be snack time, right? Make these fun Nutter Butter Polar Bears (Hungry Happening) with your little explorers! Cold after sledding? Try some Polar Bear Hot Cocoa (Mom Endeavors) or turn on the oven and bake up some Polar Bear Cupcakes (One Little Project).