As an Amazon Associate, I earn from qualifying purchases.
Get our step-by-step tutorial for how to make an elegant kissing ball with a just a few items this Christmas season!
This post also contains affiliate links and I will be compensated if you make a purchase after clicking on my links. However, I only promote things that I love and think you will love, too. For more information, please see our Disclosure Policy.
This Christmastime kissing ball is a fun décor item to hang in your home in lieu of mistletoe. Made with cheap supplies from Dollar Tree, this craft can be made in just an hour. A red buffalo check scarf, pine cones, and faux holiday greenery cover a Styrofoam ball. Hang this pretty decoration anywhere in your home where you wouldn't mind getting stopped for a few smooches.
DIY Christmas Décor
The holidays are the perfect time of the year to get into the crafting spirit. It's so much fun to decorate your home with handmade décor items. Homemade gifts are always appreciated and it's fun to pull out the Christmas decorations every year and come across the fun ornaments and crafts that were made by family members many years ago.
Materials Needed
6 inch Styrofoam ball
Red ribbon (approx. 4 ft)
1 red buffalo check scarf
Pinecones
Faux greenery and flowers
Faux cotton
Hot glue gun
You can probably find almost all the supplies for this craft at the dollar store. My local dollar tree just got in some really cute white and red buffalo check scarves that are perfect to wear or use for crafts.
You can use real evergreen branches for this craft but keep in mind that they won't last for more than one season. Eventually, they will turn brown. Using fake branches and flowers will ensure that your Christmas kissing ball will last year after year.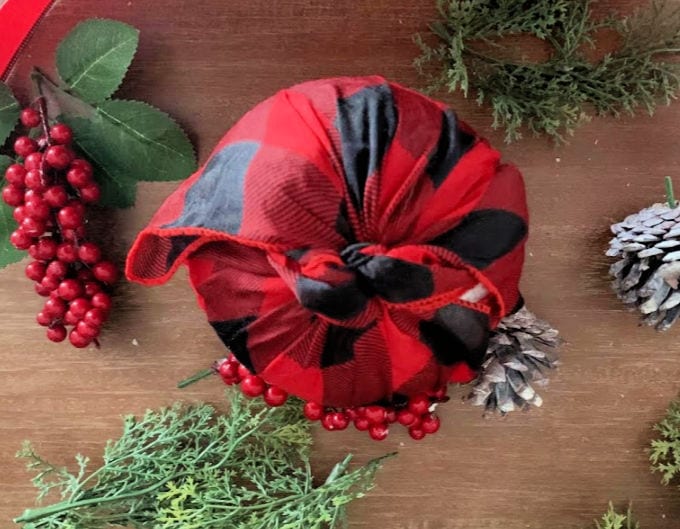 How to Make a Kissing Ball
Begin by wrapping the scarf around the foam ball and securing it with an elastic. Trim the excess to about 2 inches. Tuck and glue and spots with loose fabric as there may be some gaps showing the white ball underneath the scarf.
Next, wrap the ribbon around the ball, criss-cross it on the other side of the ball and pull it back up and tie it securely. Tie the excess into a bow and let it hang
Then, glue the pine cones on each of the four spaces at the top of the ball in between the ribbon.
Glue the faux cotton underneath the pine cones.
Add more greenery, flowers and to the top of the ball to make it look more full.
Let the glue dry completely, and tie the loose ends of the ribbon together.
Now you're ready to hang it up!
Where did kissing balls originate?
The history of Christmas Kissing Balls dates back to the time of the Middle Ages where the villagers would wind together twine and evergreen branches in the shape of a ball. They would then place a clay figure of the baby Jesus in the center and they were then known as holy boughs.
The village people would then hang their creations in castle passageways and the doorways of larger homes as a way to ensure blessings and good fortune to whoever passed underneath the holly bough and baby Jesus figure.
Where should you hang your kissing ball?
5 Places in your home to hang your new DIY décor besides above your bed:
In a Bay Window.
On the front Porch.
From a Chandelier.
In an Architectural Cut-Out.
Above a Mantle.
More Holiday Ideas:
Here are a few more ideas perfect for the holidays: