As an Amazon Associate, I earn from qualifying purchases.
Today, I'm honored to welcome Karyn from the
Pint Sized Baker
to guest post on my site – if you haven't visited her blog, you're missing out on some amazingly tempting recipes – and if you have been there, then you know what I'm talking about! Karyn has also just launched a new blog, Dieter's Downfall, and I can't wait to check out the scrumptious things she's sharing over there, too! Karyn is my go-to expert for all things cake pops, and you'll soon see why…
Hi Everyone, I'm Karyn from the
Pint Sized Baker
. I'm a wife to Mr. Quart and a mom to my Little Cup. The best part of writing a blog about baking treats, is that they enjoy eating them!
I am a Cake Popping Crazy Lady! If you are looking for the tutorials on making cake pops, head on over and check out my collection!
Ang was looking for cake pop help and she ended up at my blog. We talked back and forth a few times about some of the techniques to making cake pops.
Ang asked about wanting to do something special for her son's upcoming Construction themed birthday party. I suggested some simple Hard Hat cake pops.
To make 12 Hard Hat Cake Pops you will need:
1/4 of a 9×13 sheet cake (your favorite flavor)
2 Tablespoons of frosting (something to compliment the cake)
12 lollipop sticks
12 yellow candy melt disks (I used Make N' Mold here) SET ASIDE
1 bag of Yellow Candy Melts
Cake Pop Stand (Wooden or Styrofoam)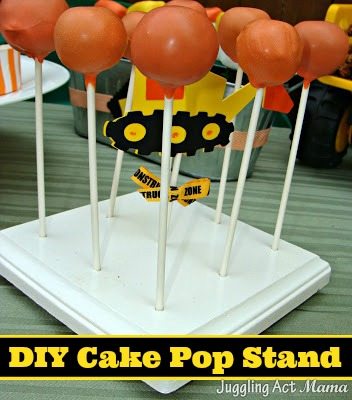 DIY Cake Pop Stand
This stand is easy to make and comes in handy for some many different kinds of parties!
Step 1. Mis Cake and Frosting until smooth and at a play-doh consistency.
Step 2. Use a 1 tablespoon cookie scoop to measure out 12 balls.
Step 3. Roll balls smooth between palms and flatten one side.
Place on cookie sheet lined with wax paper and place in fridge.
Step 4. Cut Candy Melt disks into crescent shapes. Cut just past center. Hard Hats have a very small brim.
Step 5. Melt Bag of candy melts according to directions.
Step 6. Remove cake balls from fridge. Dip 1/4 inch of the lollipop stick into the melted candy and insert into the flat side of cake ball. Complete all pops.
Step 7. Dip the cut edge into the candy and attach to lower front of the cake ball. Complete all pops.
Step 8. Completely did the pop into the candy – straight up and down, no twisting or turning in the candy. Tap off excess candy and stand up to dry. Complete all pops.
Step 9. Place a small amount of candy into a baggie and snip off a tiny corner. Pip on three lines across the top of the hat.
Step 10. Clean up and Enjoy!
TIPS – Place the brim down at the bottom of the hat, it'll look more like a duck bill if you put it up too high. Make the bottoms flat, some were a bit rounded ones looks a bit off.
I hope that you enjoyed my tutorial, Ang. I look forward to seeing your version for your son's birthday.
Construction Party Posts
Paint Brush Pops
These oversized marshmallows are easy to decorate as "paint brushes" using candy melts.