Hi everyone! I'm Paige and you've probably seen me around before. I run a "DIY meets lifestyle" blog called A Dose of Paige. You might remember me from last month, when I shared 35 DIY Fall Decor Projects. Today I'm here to share this awesomely Easy Money Ornament for Gifts.
Money is a pretty popular gift during the holidays right? Right.
But, it's kind of unimaginative. I like to add a special touch to the people I choose to give money to, so I came up with a couple of ideas. This way I feel like I really thought about the gift and the person that receives the money still gets what they want.
I've actually got a cute money gift jar up on my blog today, but I wanted to share the money ornament here. Hopefully one of these will strike your fancy and you'll want to give some money this year!
(Hey, it makes your holiday shopping easier, doesn't it?)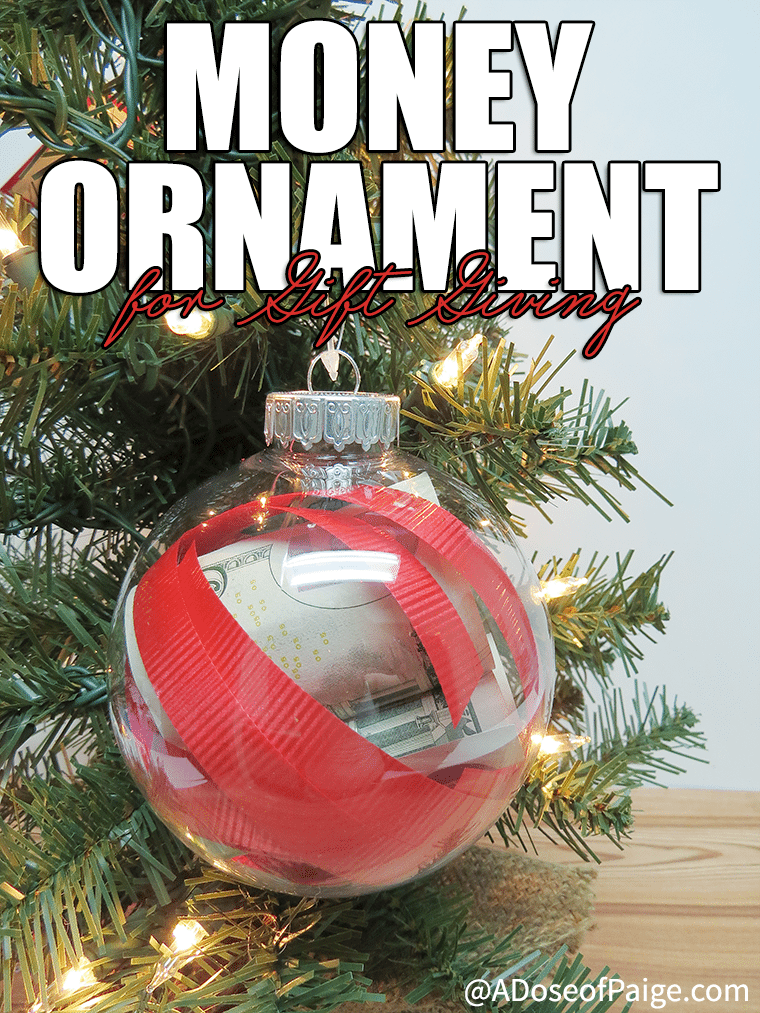 Here's what you need for this one:
First, cut few strips of your ribbon. You want it to be the ribbon that can curl, otherwise it won't look as pretty. Anyway, after you cut the ribbon, wrap them around your pen/marker like shown below.
Then just slip it int your ornament!
After you've got a couple of ribbons, add some money to the ornament. It's best to use small bills for this, so that it adds more to the look. I found it was better to just curl up the bills, rather than wrapping them around the marker, but it's up to you.
Add your money and then close your ornament!
And you're all done! You can add a ribbon, a gift tag, whatever you want!
Who are you going to give money to this year?
Scrabble Ornaments
These personalized Scrabble Tile Ornaments are simple to make and fun, too! Use them on packages as a gift tag, name tag for stockings, or hang them on the tree.