As an Amazon Associate, I earn from qualifying purchases.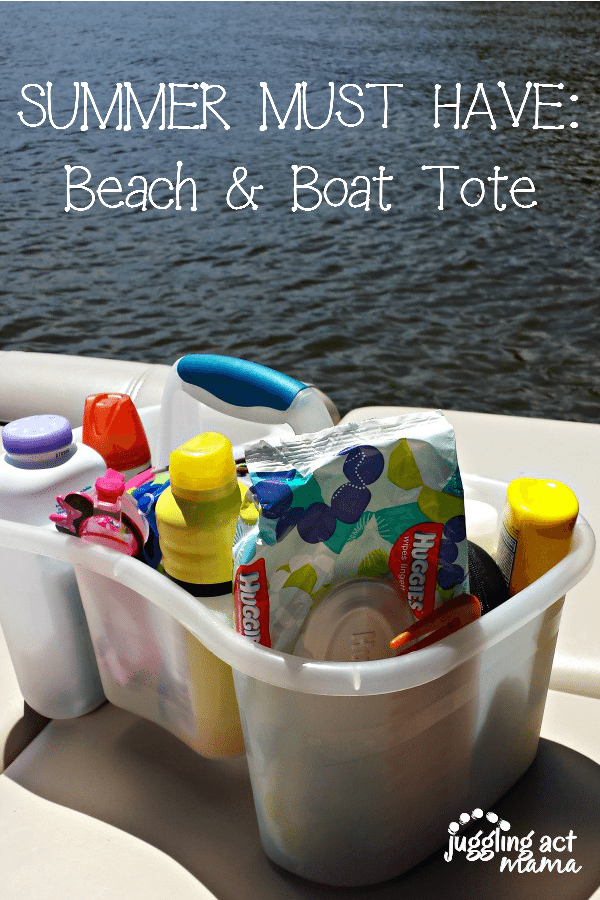 Successful summer travel starts at home with being prepared! Put together a Beach and Boat Tote to take with you with all your summer essentials.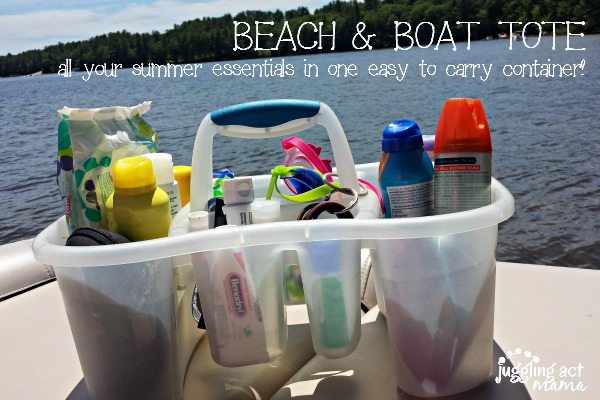 First published June 15, 2015, updated Jun 28, 2019 to improve reader experience.
Summer Essentials Beach Tote
Over the last couple of summers, I have perfected 'the tote.' It goes everywhere with us, and has everything we need for hanging out at the beach or the boat.
I knew you guys would love this because my Pool Pallet Storage System is so popular. (We all love our time in the water, whether it's pool-side, at the lake or beach!)
But we want to be prepared, right? So here are my must-haves for the tote!
I picked up a cheap shower caddy and stuffed it full of all the small summer essentials I could think of from must-haves like sunscreen, bugspray, and sun glasses, to practical items like a first aid kit, hand sanitizer and hair elastics. Here are a few of the items we tote along:
Summer Essential Must Have's!
As an Amazon Associate, I earn from qualifying purchases.
Here's how to build your own Summer Essentials Beach and Boat Tote:
Summer Essentials Beach & Boat Tips:
Cover Up!
I love these Tuga Bucket Hats for girls and boys, they offer UPF 50 protection from the sun. They cover the back of the neck and ears, two places my kiddos are always prone to burns. I love the adjustable strap, too, which comes in especially handy in when we're out on the boat. Swim shirts are a must, too.
Stay Hydrated!
Pack lots of water, keep the soda to a minimum and instead pack 100% juice boxes for the kiddos. Look for BPA free water bottles with handles that make it easy for little ones to carry. Load up on snacks that help them stay hydrated, too, like fresh fruit and applesauce pouches.
Set Limits!
This goes for everything from how long you'll stay at the beach or on the boat, to how many seashells or rocks the kiddos can bring home. Setting limits and expectations ahead of time helps you avoid meltdowns later on.
"We're going to drive around the lake twice before we stop at the sandbar to swim" is one of the expectations we typically set for our kids when we pull out of the dock. It keeps them from whining about when we can go swimming, and they pay attention to their surroundings because they're watching for when the second loop is done!
Have Fun!
Bring some things for the kiddos to do. Sure the beach is a place to make your own fun, but a few sand toys will keep them busy much longer.
Have one kiddo that likes to smash everyone's castle? Have a contest to see who can make the most, or have them play separately, then show one another what they made after.
Play it Safe!
Puddle jumpers are great for the beach or shallow swimming areas, but be sure you are monitoring your children at all time.
Buy a good quality Coast Guard-approved life jacket for each of your children, and make sure to check your child's weight frequently. Life jackets can be expensive, but they usually will last 2 seasons since they typically have a 20 pound weight range.
More Outdoor Living Posts
Do you have a tip for the Summer Essentials Tote?
If you have a must have item I haven't listed, please comment below! I'd love to hear your tips so we can all be more prepared!