As an Amazon Associate, I earn from qualifying purchases.
Gorgeous personalized Christmas cards don't have to take forever to create. Find out my tips for ordering personal holiday cards, how to address them correctly, and when to get them in the mail.

This post has been sponsored by Minted.com. I have received product for review, however, all opinions are my own. #ad
Some of the items below contain affiliate links; I am a participant in the Amazon Services LLC Associates Program, an affiliate advertising program designed to provide a means for us to earn fees by linking to Amazon.com and affiliated sites. I am also an affiliate for other brands such as Minted. However, I only promote things that I love and think you will love, too. For more information, please see my Disclosure Policy.
Minted has so many fun options for personalized Christmas cards, plus they also have Ornament Holiday Cards, which I wrote about as part of my How to Host a Cookie Exchange Party post a couple years ago. Just look how little they were then!!
Getting Organized for the Holidays
Staying sane during the holidays means not taking on too much, and planning ahead. Download our free Snowflake Holiday Planner set with printables for gift giving, holiday cards, gift tags and even a page for the kids to write a letter to Santa!
Personalized Christmas Cards
I enjoyed creating our Minted Holiday Cards very much. It was a simple process – in fact, the most difficult part was deciding which lovely design to choose!
Tips for Personalized Christmas Cards:
Plan ahead! Don't wait until December to order your cards. Ordering early means you'll have plenty of time to get them into the mail and not have to stress!
Think outside the box. There are so many ways to create personalized Christmas cards on Minted and they've already done the hard work for you. Browse to find gorgeous designs and then tailor them to suit your tastes.
Tell a Story. Everyone loves photo cards, but sharing a fun adventure or silly story will help your loved ones (especially those you don't see as much) feel closer to you and your family.
What is the correct way to make last names plural?
As a grammar geek, this is something I notice on cards every year. I'm going to give you the three rules for the correct way to make last names plural:
1. Never add an apostrophe.
Example: Season Greetings from the Johnsons is the correct way to make Johnson plural.
2. For names ending in S, X, CH, or SH, simply add an es to the end of the name.
Example: Paris becomes Parises and; March becomes Marches and so on.
3. If your name ends in any other letter, just add an S, but remember rule number 1 and never add an apostrophe.
Example: Smith becomes Smiths and Wilson becomes Wilsons.
Okay so here's rule #4, when in doubt, for get making it plural and use the word family, for example, The Brown Family or as I have done on our cards, The Paris Family.
When is the best time to mail holiday cards?
Plan on sending your cards out about 2-3 weeks before Christmas day. This gives the post office, which is of course more busy that usual, plenty of time to get my cards where they need to be.
I like to plan on at least a week to address my cards as I don't like to do them all in one sitting. I plan this extra time in and order them early so I have plenty of time.
Exceptionally Unique and Personalized Christmas Cards
For truly unique and personalized Christmas cards, consider the Minted Holiday Booklette which allows you to share tons of photos and a longer holiday greeting. These are super outside the box! There's no extra postage required and they definitely make a statement. Booklettes come with free envelopes and even recipient addressing. Creating a Booklette is perfect for newly married couples, new babies and families with a lot to share!
Ways to Make Christmas Cards Extra Special
Add a personal greeting to your card.
Include wallet photos of your children for close family and friends.
Ask your children to draw a mini card to tuck into the envelope for a little something extra special.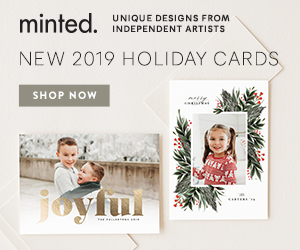 How to Save Money on Christmas Cards
I saved $4 by shopping through Ebates. It even looked for coupon codes that might work with my order!
Also be sure to check the Minted website for discounts.
You Might Also Like These Free Holiday Printables:
from left to right: