As an Amazon Associate, I earn from qualifying purchases.
I wanted to make a unique favor that would help guests get in the spirit for Olivia's Minnie Mouse inspired second birthday party.
Even Mr. Juggling At was happy to help me make these… ok maybe not happy, but he did lend a hand by tracing the template onto the felt and cutting it for me. He draws the line at the glue gun though.
I love how these came out. The ribbon used was totally Minnie Mouse (hello, pink? polka dots?) and I also used it in several other areas to tie the theme together.
We also made some without the ribbons for the boys… but boys can totally rock a pink polka dot bow, too, you know!
The only modifications I made from The Suburban Mom's tutorial were:
I skipped one step by using headbands covered with black ribbon or pink ribbon, which cut down the time these took to make, and the amount of felt I needed.
I also used some sparkly felt, which I thought was super cute if I do say so myself!
And here's a quick tip on how to display these headbands – Take a full roll of paper towels and wrap it with pink tissue paper, tucking the ends into the holes on the end. You'll end up with a squishy roll that the headbands will easily slide onto and stay upright.Planning a Minnie party? Check out these other projects and recipes: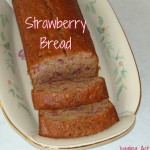 Strawberry Bread
Strawberry Oat Bars
More Party Ideas