Homemade Peanut Butter Cups decorated for Halloween are a sweet and fun treat to make for parties and are easily adapted for other holidays, too!

These Halloween Homemade Peanut Butter Cups are so simple to make! They're a wonderful party food and easy to make with the kids this Halloween. I hope you'll enjoy them!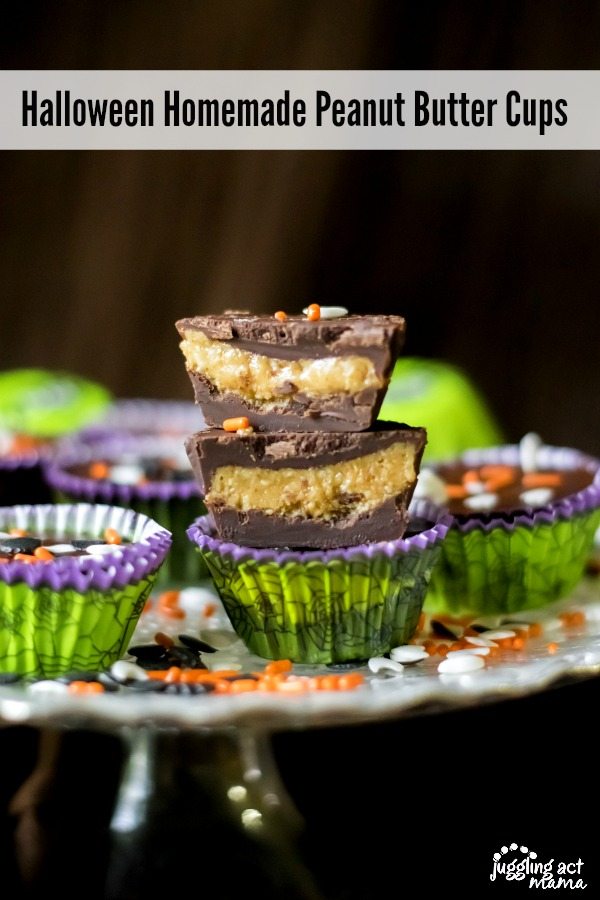 2 Ingredient Halloween Homemade Peanut Butter Cups
Makes: 12 mini muffin sized homemade peanut butter cups
Ingredients:
¼ cup Honey Roasted Peanut Butter
8 oz. of Semi-Sweet Baking Bar, chopped
Sprinkles to sprinkle on top (optional)
Directions:
In a microwave safe bowl warm the peanut butter for 15 to 20 second till soft and at a pourable consistency.
Add the chopped up chocolate in another microwavable bowl and melt it too. Do it in burst of 20 seconds, so that it doesn't seize up or burn. Mix well after each burst.
Line a mini muffin pan with paper or silicone liners.
Spoon about 1 teaspoon melted chocolate into each lined muffin cup. Tap the muffin tin lightly to spread the chocolate.
Spoon ½ teaspoon of slightly melted peanut butter over chocolate. Tap the muffin tin lightly again to spread.
Top it off with 2 teaspoon of melted chocolate. Tap lightly to spread everything evenly and to get rid of any air bubbles. Add sprinkles of choice.
Refrigerate the tin for about 30 minutes for the cups to harden.
Peel the paper liner and enjoy!
Notes:
Since the chocolate doesn't have any stabilizers added, it melts quickly. Keep under refrigeration at all times.
If honey roasted peanut butter is not available, use regular peanut butter. Add a tablespoon of honey or maple syrup and warm in the microwave for 30 seconds till soft. Mix well and use it as per the recipe.
If using chocolate chips instead of bar, add a tablespoon of vegetable or coconut oil, while melting. It prevents seizing.
Need more great Halloween ideas?
Check out all our Halloween posts by clicking on the image below: